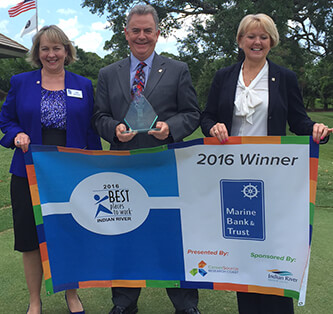 June 27, 2016

VERO BEACH, FLA. -Marine Bank & Trust was recently recognized as one of Indian River County's "2016 Best Places to Work" by the CareerSource Research Coast. The annual program surveyed participating Indian River employers and evaluated more than 30 criteria including employee turnover, growth, employee development, internal promotions, benefits, and retirement plans to determine Indian River County's Best Places to Work. This is the Bank's fourth win after receiving the award in 2010, 2011 and 2013.
In addition to recognizing the winners at the June 16th Awards Luncheon and Ceremony at Bent Pine Club, CareerSource Research Coast provided the participating businesses with a detailed benchmarking report documenting the results of the survey and samples of some of the best practices used in Indian River County to attract and retain its workforce. CareerSource partnered with the Sebastian River Area Chamber of Commerce, Indian River Chamber of Commerce, and Treasure Coast Human Resources Association to bring the free program to the business community.

"It's always nice to be recognized as a great place to work," said Bill Penney, President and CEO of Marine Bank. "So to receive an award for how your efforts impact your employees is an overwhelming confirmation that our leadership is doing the right thing."
Penney prides the bank on its commitment to investing in its people. "We provide training to ensure that everyone has the skills needed to succeed and we conduct internal promotions to keep things fun. We stress the importance of exceptional customer service and enforce that by measuring our customer experience and sharing the outcomes. We encourage our team to volunteer in the community which not only creates many connections for the Bank but hones the leadership skills of our team."
About CareerSource Research
CareerSource Research Coast is a private, non-profit corporation with a Board of Directors consisting of private business, educational and economic development representatives, community-based organizations, state agencies, elected officials and a full-time professional staff. Its mission is to promote a bright economic future through the coordination of workforce development activities and services in the four-county area. For the latest information on CareerSource Research Coast, visit
http://careersourcerc.com/
.