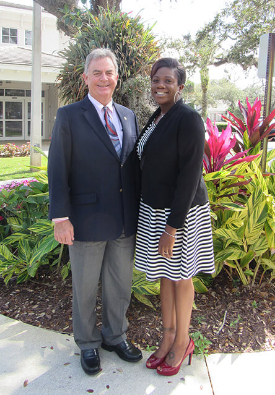 February 15, 2018
For the sixth consecutive year, Marine Bank & Trust will support Leadership Indian River County by providing a minority scholarship. Marine Bank's support ensures that a deserving individual can benefit from the Indian River Chamber of Commerce program. This year's recipient is Carrie Williams, MA. Ms. Williams is a guidance counselor with Gifford Youth Achievement Center, Inc.
"Marine Bank is proud to provide a future leader with the benefits of this remarkable experience," said Bill Penney, president and CEO of Marine Bank & Trust. "Our community is fortunate to have a leadership program of this caliber available to the people who will influence the future growth and prosperity of our economy. We congratulate Ms. Williams on receiving this scholarship."
Leadership Indian River County is a community leadership program that includes a seven-session training program providing a hands-on, multi-disciplinary study of Indian River County's current infrastructure, resources and issues in order to expose potential leaders to the challenges and opportunities of the area.