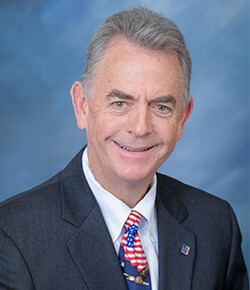 Marine Bancorp of Florida, Inc., the parent company of Marine Bank & Trust, has announced that the Bank ended 2019 with an increase in loans and core deposits, record profits and an increased value for shareholders.
Highlights of Marine Bank's 2019 include the bank experiencing year-over-year asset growth of 6% with $286 million in total assets as of December 31, 2019 compared to $270 million as of December 31, 2018. Total deposits as of December 31, 2019 were $257 million as compared to $245 million on December 31, 2018, an increase of 5%.  Loans outstanding as of December 31, 2019 were $242 million as compared to $218 million on December 31, 2018, an increase of 11%.
"I've said this many times, but it bears repeating – Marine Bank takes our distinction as a community bank very seriously, and as a result, we strive to be a dependable resource for our local businesses and residents," said Bill Penney, President and CEO of Marine Bank & Trust. "I am proud to report that in 2019, the Bank closed 298 loans totaling $113.6 million that included $50 million in commercial loans helping 132 small businesses grow and create new jobs, $62.5 million in mortgage loans that assisted 166 families in purchasing or refinancing their homes, and more than $1 million in consumer loans." 
Also in 2019, the Bank opened a loan production office and commercial mortgage brokerage business in St. Lucie West managed by career lender Bill Casey.
For the second year in a row, Marine Bank & Trust was named among the top extraordinary banks in the United States by The Institute for Extraordinary Banking™ and received the Institute's Banky™ Award for its commitment to strong community banking. This recognition is given to the top community banks across the country for their contributions toward the success of their communities' small businesses and families.
In September, Marine Bank President and CEO Bill Penney was awarded the Alma Lee Loy Community Service Award by the Indian River County Chamber of Commerce.  Established by the Chamber in 1995, the award recognizes citizens of Indian River County who distinguish themselves professionally through excellence and privately through commitment to the community.
"Bill Penney is a remarkable businessman, mentor and community leader in Indian River County," said Dori Stone, President of the Indian River County Chamber of Commerce. "Since meeting Bill, I'm impressed with his ability to balance all the aspects of his life as he continually finds time to lend his support to community causes and needs.  He gives 100% to everything he's involved in and is easily one of the most approachable people I've gotten to know in this community."