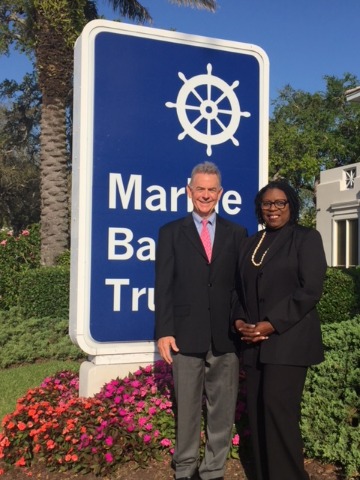 March 12, 2019
For the seventh consecutive year, Marine Bank & Trust will support Leadership Indian River County by providing a minority scholarship. Marine Bank's support ensures that a future leader will benefit from the Indian River Chamber of Commerce program and be better prepared to serve our community. The 2019 recipient is Jonnie Perry, the Executive Director of Gifford Community Cultural & Resource Center, a non-profit, volunteer base organization for mentoring, cultural and leadership programs for underserved youth.
Ms. Perry is a graduate of Vero Senior High School and Morris Brown College in Atlanta, Georgia. Since returning to Indian River County in 2011, she has volunteered with Indian River County Habitat for Humanity, Vero Beach Elementary School's "Winners Walk Tall" program, Vero Beach Senior High School's School Advisory Committee, and is a former board member and outreach and development director of the Gifford Youth Orchestra.

"Marine Bank is honored to play a role in rewarding a deserving individual who has already demonstrated a commitment to our community with this unique opportunity to engage with and make an impact in Indian River County," said Bill Penney, President and CEO of Marine Bank & Trust.  "We are fortunate to have a leadership program that continues to motivate, educate, and excite a new generation of leaders who will contribute to the future growth and prosperity of our economy. We congratulate Ms. Perry on receiving this scholarship."

Leadership Indian River County is a community leadership program that includes a seven-session training program providing a hands-on, multi-disciplinary study of Indian River County's current infrastructure, resources and issues in order to expose potential leaders to the challenges and opportunities of the area.