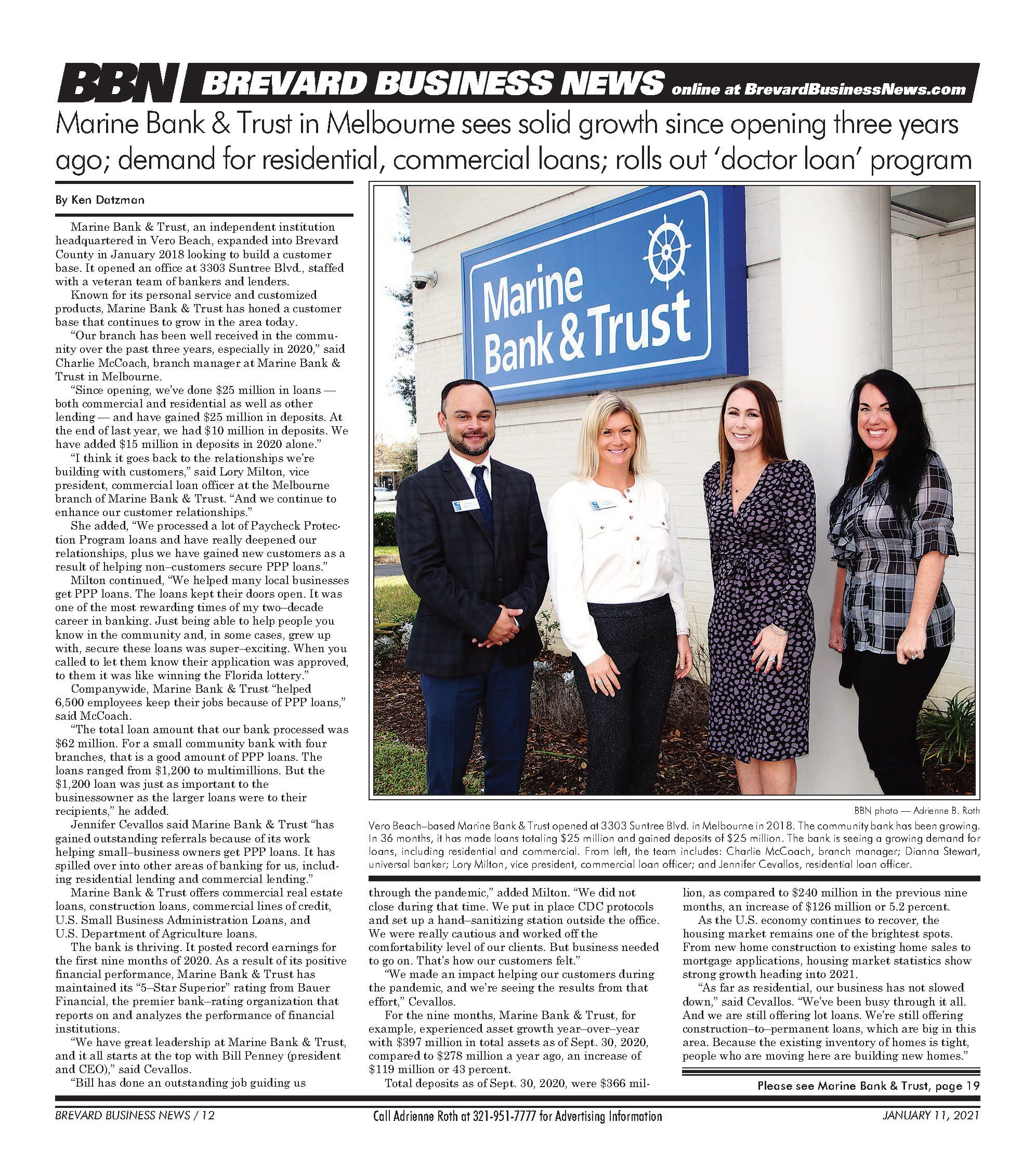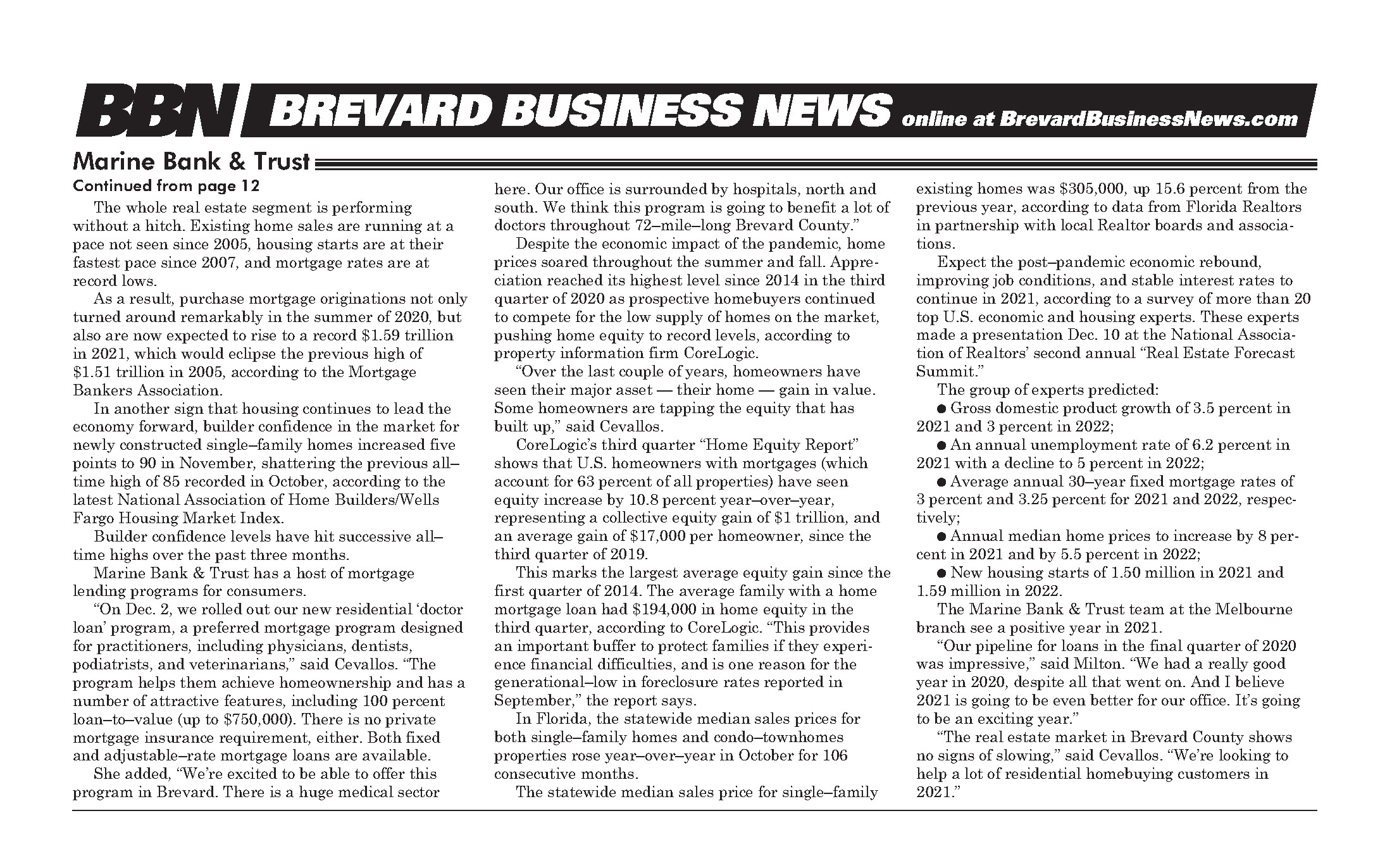 Marine Bank & Trust in Melbourne sees solid growth since opening three years ago; demand for residential, commercial loans; rolls out 'doctor loan' program

By Ken Datzman

Marine Bank & Trust, an independent institution headquartered in Vero Beach, expanded into Brevard County in January 2018 looking to build a customer base. It opened an office at 3303 Suntree Blvd., staffed with a veteran team of bankers and lenders.

Known for its personal service and customized products, Marine Bank & Trust has honed a customer base that continues to grow in the area today.

"Our branch has been well received in the community over the past three years, especially in 2020," said Charlie McCoach, branch manager at Marine Bank & Trust in Melbourne.

"Since opening, we've done $25 million in loans —both commercial and residential as well as other lending — and have gained $25 million in deposits. At the end of last year, we had $10 million in deposits. We have added $15 million in deposits in 2020 alone."

"I think it goes back to the relationships we're building with customers," said Lory Milton, vice president, commercial loan officer at the Melbourne branch of Marine Bank & Trust. "And we continue to enhance our customer relationships." She added, "We processed a lot of Paycheck Protection Program loans and have really deepened our relationships, plus we have gained new customers as a result of helping non–customers secure PPP loans."

Milton continued, "We helped many local businesses get PPP loans. The loans kept their doors open. It was one of the most rewarding times of my two–decade career in banking. Just being able to help people you know in the community and, in some cases, grew up with, secure these loans was super–exciting. When you called to let them know their application was approved, to them it was like winning the Florida lottery."

Companywide, Marine Bank & Trust "helped 6,500 employees keep their jobs because of PPP loans," said McCoach.

"The total loan amount that our bank processed was$62 million. For a small community bank with four branches, that is a good amount of PPP loans. The loans ranged from $1,200 to multimillions. But the $1,200 loan was just as important to the businessowner as the larger loans were to their recipients," he added. Jennifer Cevallos said Marine Bank & Trust "has gained outstanding referrals because of its work helping small–business owners get PPP loans. It has spilled over into other areas of banking for us, including residential lending and commercial lending."

Marine Bank & Trust offers commercial real estate loans, construction loans, commercial lines of credit, U.S. Small Business Administration Loans, and U.S. Department of Agriculture loans. The bank is thriving. It posted record earnings for the first nine months of 2020. As a result of its positive financial performance, Marine Bank & Trust has maintained its "5–Star Superior" rating from Bauer Financial, the premier bank–rating organization that reports on and analyzes the performance of financial institutions.

"We have great leadership at Marine Bank & Trust, and it all starts at the top with Bill Penney (president and CEO)," said Cevallos.
"Bill has done an outstanding job guiding us through the pandemic," added Milton. "We did not close during that time. We put in place CDC protocols and set up a hand–sanitizing station outside the office. We were really cautious and worked off the comfortability level of our clients. But business needed to go on. That's how our customers felt." "We made an impact helping our customers during the pandemic, and we're seeing the results from that effort," Cevallos.

For the nine months, Marine Bank & Trust, for example, experienced asset growth year–over–year with $397 million in total assets as of Sept. 30, 2020, compared to $278 million a year ago, an increase of $119 million or 43 percent.
Total deposits as of Sept. 30, 2020, were $366 million, as compared to $240 million in the previous nine months, an increase of $126 million or 5.2 percent.

As the U.S. economy continues to recover, the housing market remains one of the brightest spots. From new home construction to existing home sales to mortgage applications, housing market statistics show strong growth heading into 2021.

"As far as residential, our business has not slowed down," said Cevallos. "We've been busy through it all. And we are still offering lot loans. We're still offering construction–to–permanent loans, which are big in this area. Because the existing inventory of homes is tight, people who are moving here are building new homes."
The whole real estate segment is performing without a hitch. Existing home sales are running at a pace not seen since 2005, housing starts are at their fastest pace since 2007, and mortgage rates are at record lows.

As a result, purchase mortgage originations not only turned around remarkably in the summer of 2020, but also are now expected to rise to a record $1.59 trillion in 2021, which would eclipse the previous high of $1.51 trillion in 2005, according to the Mortgage Bankers Association.

In another sign that housing continues to lead the economy forward, builder confidence in the market for newly constructed single–family homes increased five points to 90 in November, shattering the previous all–time high of 85 recorded in October, according to the latest National Association of Home Builders/Wells Fargo Housing Market Index.
Builder confidence levels have hit successive all–time highs over the past three months. Marine Bank & Trust has a host of mortgage lending programs for consumers.

"On Dec. 2, we rolled out our new residential 'doctor loan' program, a preferred mortgage program designed for practitioners, including physicians, dentists, podiatrists, and veterinarians," said Cevallos. "The program helps them achieve homeownership and has a number of attractive features, including 100 percent loan–to–value (up to $750,000). There is no private mortgage insurance requirement, either. Both fixed and adjustable–rate mortgage loans are available. She added, "We're excited to be able to offer this program in Brevard. There is a huge medical sector here. Our office is surrounded by hospitals, north and south. We think this program is going to benefit a lot of doctors throughout 72-mile-long Brevard County."
Despite the economic impact of the pandemic, homeprices soared throughout the summer and fall. Appreciation reached its highest level since 2014 in the third quarter of 2020 as prospective homebuyers continued to compete for the low supply of homes on the market, pushing home equity to record levels, according to property information firm CoreLogic.

"Over the last couple of years, homeowners have seen their major asset — their home — gain in value. Some homeowners are tapping the equity that has built up," said Cevallos.

CoreLogic's third quarter "Home Equity Report" shows that U.S. homeowners with mortgages (which account for 63 percent of all properties) have seen equity increase by 10.8 percent year–over–year, representing a collective equity gain of $1 trillion, and an average gain of $17,000 per homeowner, since the third quarter of 2019.

This marks the largest average equity gain since the first quarter of 2014. The average family with a home mortgage loan had $194,000 in home equity in the third quarter, according to CoreLogic. "This provides an important buffer to protect families if they experience financial difficulties, and is one reason for the generational–low in foreclosure rates reported in September," the report says.

In Florida, the statewide median sales prices for both single–family homes and condo–townhomes properties rose year–over–year in October for 106 consecutive months.
The statewide median sales price for single–family existing homes was $305,000, up 15.6 percent from the previous year, according to data from Florida Realtors in partnership with local Realtor boards and associations.

Expect the post–pandemic economic rebound, improving job conditions, and stable interest rates to continue in 2021, according to a survey of more than 20 top U.S. economic and housing experts. These experts made a presentation Dec. 10 at the National Association of Realtors' second annual "Real Estate Forecast Summit."
The group of experts predicted:
Gross domestic product growth of 3.5 percent in 2021 and 3 percent in 2022;
An annual unemployment rate of 6.2 percent in 2021 with a decline to 5 percent in 2022;
Average annual 30–year fixed mortgage rates of 3 percent and 3.25 percent for 2021 and 2022, respectively;
Annual median home prices to increase by 8 percent in 2021 and by 5.5 percent in 2022;
New housing starts of 1.50 million in 2021 and 1.59 million in 2022
The Marine Bank & Trust team at the Melbourne branch see a positive year in 2021.

"Our pipeline for loans in the final quarter of 2020 was impressive," said Milton. "We had a really good year in 2020, despite all that went on. And I believe 2021 is going to be even better for our office. It's going to be an exciting year."

"The real estate market in Brevard County shows no signs of slowing," said Cevallos. "We're looking to help a lot of residential homebuying customers in 2021."
Image Caption: Vero Beach–based Marine Bank & Trust opened at 3303 Suntree Blvd. in Melbourne in 2018. The community bank has been growing. In 36 months, it has made loans totaling $25 million and gained deposits of $25 million. The bank is seeing a growing demand for loans, including residential and commercial. From left, the team includes: Charlie McCoach, branch manager; Dianna Stewart, universal banker; Lory Milton, vice president, commercial loan officer; and Jennifer Cevallos, residential loan officer.