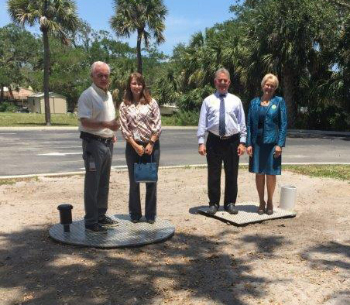 Marine Bank's Sebastian banking center has connected to the Indian River County's wastewater treatment system thanks to a grant from the
City of Sebastian
's Community Redevelopment Agency (CRA).  The banking center, located at 1020 US Highway 1, is one of several waterfront businesses available for the grant created to cover the costs incurred from the septic-to-sewer transition up to $15,000.
As a result of the aging septic system, excess nitrogen and phosphorus in the Indian River Lagoon has stimulated algae growth and killed other life in the Lagoon. The Department of Environmental Protection no longer classifies the Lagoon as a healthy ecosystem.   The City of Sebastian and Indian River Lagoon Council are promoting the program to promote, preserve and protect Sebastian's waterfront heritage through Indian River Lagoon preservation efforts.  
"The Indian River Lagoon is home to a great diversity of plants and animals," said Bill Penney, president and CEO of Marine Bank. "Although man has disturbed the balance, we have the ability to restore it.  Marine Bank is proud to be doing our part to restore the physical and economic well-being to our community and appreciate the city's assistance in making it a win-win for everyone."
About the Septic-to-Sewer Grant
The Septic-to-Sewer Grant Program is designed to provide individual grants up to $15,000 to qualified property owners for costs incurred to remove an existing septic tank and connect to the Indian River County sanitary sewer system.  Grants shall be awarded at the sole discretion of the CRA Board.  The SSP is available to businesses or residences located within the CRA District currently utilizing septic systems.  Grant funds will be disbursed as a reimbursement after receipts and documentation are submitted and inspection of improvements occur.  Grants from this program will not be awarded for sanitary improvements made prior to filing a completed application.