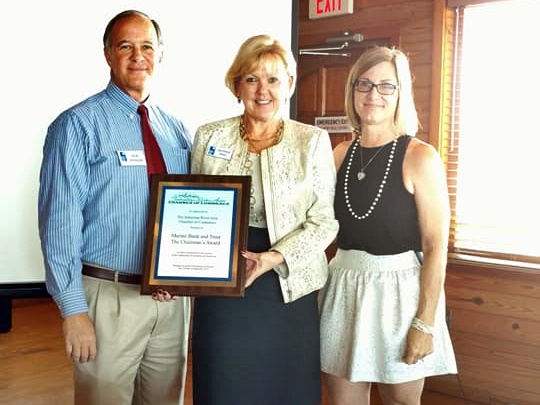 Marine Bank's Bob Morgan and Georgia Irish
accept the 2017 Chairman's award from
Chamber Chairwoman Dawn Biehl
Marine Bank Awarded 2017 Chairman's Award by the Sebastian River Area Chamber of Commerce


November 14, 2017 - The Sebastian River Area Chamber of Commerce awarded Marine Bank & Trust its 2017 Chairman's Award for the Bank's commitment to the success of the community, its residents and businesses.  The award was presented at the Chamber's monthly networking luncheon on Tuesday, November 14, 2017. 
 "The Chamber board of directors truly felt that Marine Bank went over and above during their first year in the Sebastian community," said Chamber Chairwomen Dawn Biehl.  "The Bank shares our belief that we all live here, work here and have a vested part in the community.  Team Marine jumped in right away, got involved and participated in community events, improved their property, and began developing strong relationships that we are sure will be long lasting."
Marine Bank joined the Chamber in 2016 after opening its third full-service banking center at 1020 US Highway 1 in Sebastian. 
"At Marine Bank, we take great pride in being a community bank and embracing all that it stands for," said Bill Penney, President and CEO of Marine Bank & Trust. "So to be recognized for doing what comes natural to us is a nice pat on the back.  We hope to make the exact same impact on the Melbourne area in 2018."
Marine Bank will be opening its fourth full-service banking center at 3303 Suntree Boulevard in Melbourne in early 2018.  The Bank currently operates a loan production office in Brevard County located at 6525 3rd Street, Suite 209 in Rockledge. The current office is shared with the Bank's partners at Connors Wealth Management. 
About the Sebastian River Area Chamber of Commerce

The Sebastian River Area Chamber of Commerce promotes the civic, economic and social welfare of the people in the Sebastian River Area including more than 500 businesses and not-for-profit organizations.  The chamber's mission is to be a proactive, member-supported association of businesses, organizations and individuals, united in their effort to support a healthy business environment, promote business development, encourage growth of tourism and to use its collective strength to enhance the quality of life in the community.