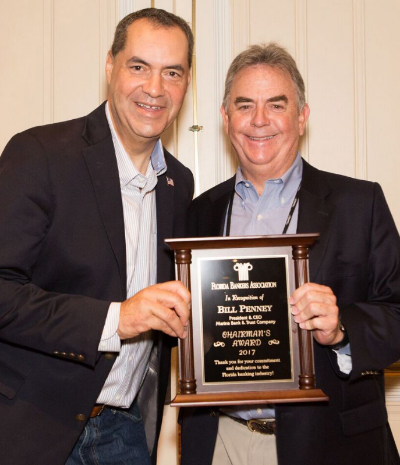 June 25, 2017
Vero Beach, Fla.  – Marine Bank & Trust President and CEO Bill Penney was presented with the 2017 Chairman's Award by the Florida Bankers Association (FBA) at the association's annual June meeting in Naples.
This annual award is presented to a recipient selected by the FBA Chairman in order to honor someone who has gone above and beyond to support the FBA during his or her term.  Penney was selected because of his continuous support of the association, his leadership on FBA committees, and his commitment to the success of the banking industry. 
Penney served on Florida Bankers Association's Board of Directors for three years, served on the Government Relations Committee, recently completed three years as Chairman of the Florida Bankers Educational Foundation (FBEF), and is a current board member of the Florida BankPac, a statewide, bi-partisan, non-profit political action committee.
"My participation in FBA's leadership has been exceptionally rewarding," said Penney. "I'm especially proud of my involvement with the Educational Foundation whose efforts enable the FBA to offers loans and scholarships to college students wanting to pursue a career in Florida banking."
Bill Penney knows firsthand how much students appreciate the FBEF since he was the recipient of the Foundation's assistance in 1977 and 1978.
About Florida Bankers Association
The Florida Bankers Association (FBA) serves as the primary resource through which Florida financial service providers work in unity to influence the state and federal legal regulatory environment in which they serve their customers. Established in 1888, the FBA is one of Florida's oldest trade associations and has a membership of more than 250 financial institutions ranging in size from small community banks, thrifts and trust companies, to medium-sized banks operating in several parts of the state, to large regional financial institutions that are headquartered in Florida or outside the state.  Deposits of the members of the FBA make up 95 percent of total deposits in the state of Florida.