November 4, 2020
Dear Fellow Shareholders:
I am pleased to announce that despite 2020's relentless delivery of unprecedented challenges, Marine Bancorp of Florida has achieved record earnings for the first nine months of the year. As a result of our continued positive financial performance, Marine Bank has maintained its 5-Star Superior rating from Bauer Financial, the premier bank-rating organization that reports on and analyzes the performance of banks.
2020 - First Nine Months Summary:
| | | | |
| --- | --- | --- | --- |
| | September 2020 | September2019 | % change |
| Net Income, million $ | 1.945 | 1.157 | 68% |
| Total Assets, million $ | 397 | 278 | 43% |
|   | | | |
| Total Loans, million $ | 333 | 232 | 44% |
| Total Deposits | 366 | 240 | 52% |
| Total Checking + Now | 160 | 102 | 57% |
|   | | | |
| Marine Bancorp Tangible Book Value Per Common Share | $18.23 | $16.27 | 12% |
| Return on Shareholders' Equity | 10.58% | 6.99% | 51% |
|   | | | |
| Non-performing assets | $0 | $0 | -- |
Financial Performance
Net income after tax for the first nine months of 2020 was $1,945,502 compared to $1,156,947 in the first nine months of 2019, an earnings improvement of $788,555 or 68%.
The Company has experienced asset growth year over year with $397 million in total assets as of September 30, 2020, compared to $278 million as of September 30, 2019, an increase of $119 million or 43%.
Loans outstanding were $333 million as of September 30, 2020 compared to $232 million as of September 30, 2019, an increase of $101 million or 44%. Subtracting the $62 million of temporary PPP loans, the loan portfolio grew $39 million over the same time-period, or 17%.  Loans are our most important earning asset and revenue source, so this loan growth helps drive the strong income performance.
Total deposits as of September 30, 2020 were $366 million as compared to $240 million on September 30, 2019, an increase of $126 million or 52%.  Most significantly, our non-interest and low interest-bearing checking accounts, highly valued as a no and low-cost loan funding source, grew to $160 million as of September 30, 2020 from $102 million, a $58 million increase or 57%. This is a direct result of our focus on acquiring these accounts and our ability to offer all the technological advantages of a big bank plus the personalized service for which we are known.
As of September 30, 2020, Return on Shareholders' Equity (ROE) was 10.58% as compared to 6.99% as of September 30, 2019, an increase of 51%.  ROE is a key profitability ratio that is used to measure the Bank's income that is returned as shareholders' equity; the ratio measures how effectively we are using your investment to create profits.
As a result of the financial success reported above, the common stock tangible book value of your company increased to $18.23 per share as of September 30, 2020, from $16.27 on September 30, 2019, an increase of $1.96 per share, or 12%.
Our Strategy
Our success is the product of our focused efforts to not only grow the Bank but improve profitability by enhancing our customer experience. By soliciting new high-value prospects while selling our value proposition rather than low prices and high rates, we have achieved a deeper wallet share with both existing and new customers. We have also benefited from being in an area with strong economic growth and a declining number of locally-based banks, making Marine Bank the best choice.
Covid-19 and PPP
We are continuing Covid-19 safety protocols: a hand washing sink at the front door, teller transactions only in the drive-in, social distancing inside the buildings, requiring masks, clear shower curtains around the cubicles in the back office areas, newly installed UV lights in the air conditioning system and frequent deep cleaning with a non-toxic formula used to sterilize hospital operating rooms. This allows us to keep our doors open during regular business hours to serve customers while maximizing the safety of our customers and employees.  
During the spring and early summer, Marine Bank originated 790 SBA Paycheck Protection Program (PPP) loans for $62 million dollars. Our team demonstrated a heroic response to meet this demand and ultimately funded eight weeks of payroll for some 6,500 employees. Their responsiveness and sincere commitment to secure relief for these small businesses motivated many non-Marine customers to become full relationship customers.
Despite the SBA's obfuscated instructions for the initial PPP loan application, and again with the forgiveness process, we have made it our mission to seek clarification and communicate the next steps with our customers. We've even stepped in to assist non-customers when their banks were unable to help.  We are confident that this will provide lasting positive impacts for the Bank, our customers and the community for years to come.
As we have now begun the forgiveness phase of the PPP loan program, Marine Bank is already processing forgiveness applications and more are arriving daily. A number of completed applications have been submitted to the SBA for final forgiveness and payoff of the principal, interest, and origination fee to Marine Bank. We are looking forward to the day we can begin calling customers to tell them "Your loan has been forgiven!"
Credit Quality
We do not yet know how the entire banking industry's loan quality may be negatively impacted by the ongoing pandemic-caused economic distress. We entered the pandemic with the best credit quality in the Bank's history and were able to offer four-month payment deferrals to all borrowers to help them cope with the government ordered shutdown of the economy.  Eighty customers representing $39.6 million in loans have taken us up on this offer.  Only three loans remain on deferral with combined balances of $526,000 which is 1.3% of the original deferral amount and 0.15% of total loans. We do expect these remaining three loans will revert to their payment plan after an additional deferral period. It is gratifying to know that we helped eighty customers get through such a difficult time.
Marine has an $8.6 million exposure to the hardest hit industries: restaurants, travel, hospitality, day care and food manufacturing. This is 3% of total loans and 30% of capital. These borrowers are all performing and, based on our conversations with them, we expect continued payment performance.  
Thus far, we have not observed any significant credit portfolio concerns but in anticipation of possible losses, we have added more than normal funds to the Allowance for Loan and Lease Loss (ALLL) which is a direct charge against earnings. For example, we funded $850,000 into the ALLL year-to-date through September 2020 vs. $180,000 for the same period in 2019. This increased our ALLL/gross loans ratio (excluding PPP loans) to 1.29% vs. 1.11% for the same time last year. We will continue to monitor the portfolio and take quick action as necessary to work with the customers while protecting the Bank's asset quality.
Wealth Management
We are pleased to have Warren Capital Management as our new strategic partner for wealth management. Warren Capital Management is led by Sue Tompkins, a local and highly skilled investment advisor.  If you have not already done so, please contact us at (772) 231-8222 to set up an appointment to review your portfolio and investment goals.
Marine Stock Trading
Your Marine Bancorp of Florida stock is traded on the OTC market under the ticker symbol of MBOF. Mike Acampora of DA Davidson is our market maker. If you have an interest in buying or selling Marine stock, please contact Mike at 904-456-6153 or macampora@dadco.com.
What You Can Do
Please check Marine Bank's Facebook and LinkedIn pages.  They provide value-added banking and financial related information and news about your Bank.  Your "likes" and "shares" are important so please follow us!
Remember to refer your friends, family members, business associates or someone you think will be a good customer of your Bank. Over the last three years, more than 99% of the respondents to our service survey said they would recommend Marine Bank to others, so you can be assured we will exceed their expectations.
2020 has been a challenging year, and I will be glad to soon see it in the rearview mirror.  However, it will also serve as a lasting demonstration of how our team, our customers and our community overcame insurmountable difficulties together and emerged stronger than before.  Thank you for your support of Marine Bank and our Team. It is our goal to continue to enhance the value of your investment. 
Sincerely yours,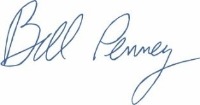 William J. Penney
President, CEO & Chairman