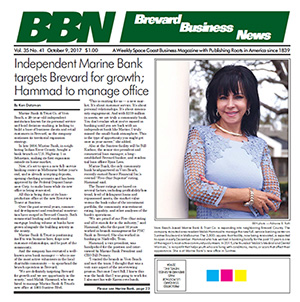 October 9, 2017
Ken Datzman
Brevard Business News
Marine Bank & Trust Co. of Vero Beach, a 20–year–old independent institution known for its personal service and local decision–making, is looking to build a base of business clients and retail customers in Brevard, as the company continues its territorial expansion strategy.
In late 2016, Marine Bank, in neighboring Indian River County, bought a bank branch on U.S. Highway 1 in Sebastian, making its first expansion outside its home market.
Now, it's set to open a new full–service banking center in Melbourne before year's end, and is already accepting deposits, opening checking accounts and has been approved by the Federal Deposit Insurance Corp. to make loans while its new office is being renovated.
All this is being done at its loan– production office at the new Riverview Tower at Suntree.
Over the past several years, commercial development and residential construction have surged in Brevard County. Both commercial lending and residential mortgage lending volume at banks have grown alongside the building activity in the county.
Marine Bank & Trust is positioning itself to win business here, forge new customer relationships, and be part of the community.
And the company has recruited a well– known area bank manager — who is one of the most active volunteers in the local charitable community — to spearhead the branch operation in Brevard.
"We are definitely targeting Brevard for growth and we see opportunity in the county," said Malak Hammad, who was hired to manage Marine Bank & Trust's new office at 3303 Suntree Blvd.
"This is exciting for us — a new market. It's about customer service. It's about personal relationships. It's about community engagement. And with $219 million in assets, we are truly a community bank. You don't realize what you've missed in banking until you are back with an independent bank like Marine. I truly missed the small–bank atmosphere. This is the type of opportunity you might get once in your career," she added.
Also at the Suntree facility will be Bill Koehne, the senior vice president and commercial loan manager, a long– established Brevard banker, and residential loan officer Ryan Lees.
Marine Bank, the only community bank headquartered in Vero Beach, recently earned Bauer Financial Inc.'s coveted "Five–Star Superior" rating, Hammad said.
The Bauer ratings are based on several factors, including profitability/loss trend, level of delinquent loans and repossessed assets, the market value versus the book value of the investment portfolio, the community reinvestment rating, liquidity, and other analyses of the bank's operations.
"We are proud of our Five–Star rating and all it stands for in the industry," said Hammad, who for the past 10 years worked in branch management for PNC Bank in Brevard. She also worked in banking in Nashville, Tenn.
Hammad, a vice president, was handpicked for the position and interviewed by Marine Bank President and CEO Bill Penney.
"I visited the branch in Vero Beach and met the team. I thought that was a very nice aspect of the interviewing process. But once I met Bill, I knew this was the bank that I was going to work for. I also met his wife Karen over lunch.
Vero Beach–based Marine Bank & Trust Co. is expanding into neighboring Brevard County. The company recruited area resident Malak Hammad to manage the new full–service banking center on Suntree Boulevard in Melbourne. The 3,800–square–foot facility, now being renovated, is expected to open in early December. Hammad who has worked in banking locally for the past 10 years is one of the region's most active community volunteers. In 2015, she founded 'Malak's Medical and Dental Warriors,' a nonprofit that helps youth who are living with conditions, marks, or scars that affect their appearance. She is at Marine Bank's new office in Suntree.
She's a wonderful individual, too. We both share the same birthday, Feb. 9."
Marine Bank's corporate headquarters are on Beachland Boulevard. Penney's office is off to the right after coming through the doors of the bank.
"Bill is not in a corner office or upstairs. He's very visible and talks to the associates on the teller line and knows each by his or her first name. Even though our payroll is direct–deposited, Bill still delivers the paychecks — the stubs — individually to each bank employee. He puts a 'smiley face' on the envelope. You just don't see that anymore in banking. I think it means the world to the employees of the bank," said Hammad.
One of those employees, Mary Cone, vice president for residential and consumer lending, has been with the Marine Bank since its founding in 1997. "It's amazing. She loves the community–bank atmosphere at Marine Bank. Mary has built quite a customer base over the years. We have a great team of people and Bill Penney is the leader," said Hammad.
In 2016 Marine Bank was named one of the "Best Places to Work" in Indian River County by CareerSource Research Coast.
At the Florida Bankers Association's recent annual meeting in Naples, Penney was presented with the 2017 Chairman's Award. The award is given to a recipient selected by the FBA Chairman in order to honor someone who has gone "above and beyond" to support the FBA during his or her term. Penney was selected because of his continuous support of the association, his leadership on FBA committees, and his commitment to the success of the banking industry.
Penney served on the FBA's Board of Directors for three years, served on the Government Relations Committee, and recently completed three years as chairman of the Florida Bankers Educational Foundation, or FBEF. Penney knows firsthand how much students appreciate the FBEF since he was the recipient of its assistance in 1977 and 1978.
"Bill is a well–respected bank president and CEO across the state of Florida," Hammad said.
His bank recently signed a lease on what will soon become its fourth full–service banking center, and its first in Brevard. The 3,800–square–foot facility formally was a SunTrust Bank branch. The building, located on the southwest corner of Suntree Boulevard and Wickham Road, is being fully renovated, including the installing of new carpet, new teller equipment, and new furniture.
"It's going to be a really nice banking center," said Hammad. "It seems like there is a bank on every corner in Brevard. And most of the bank products are similar. So, about the only way you can differentiate yourself in the market is through service, and that's what we plan to do."
She added, "Marine Bank frequently surveys their customers to gauge their level of service. In the current survey, 100 percent of our customers said they would recommend Marine Bank to others. That's very complimentary. And we strive every day to meet their service expectations."
The banking center in Melbourne anticipates opening in early December. "We will be operating from that branch before the end of the year," said Hammad. "The hurricane pushed our schedule back a bit. But we're targeting an opening around Dec. 1, but no date has been set yet."
She said Marine Bank will be looking to "expand our branch footprint in Brevard in the future. We want to grow here and we're putting together the team to do it."
At the Marine Bank locations, full financial services are provided through a partnership with Connors Wealth Management, an independent local firm that recently opened an office at Riverview Tower. In Brevard, Connors Wealth Management also has offices in Cocoa Beach and Rockledge.
Some community banks are seeing old–fashioned bricks–and–mortar growth, while various big banks have been pulling back, trimming their branch networks and slicing their employment ranks.
To mark its expansion here, Marine Bank is now offering a business and personal money market account with a rate of 1.25 percent (annual percentage yield). It's being touted as "a pre–opening" promotional rate.
"The minimum deposit to earn the 1.25 percent is $50,000," said Hammad. "We researched the market and we think that rate in the current environment is very attractive. The 1.25 APY money market is for four months, but if you open a checking account we will extend the offering eight additional months." The national average for a money market account is 0.12 percent, according to Bankrate.com.
These accounts can be opened at Marine Bank's loan– production office at Riverview Tower, which is near River Rocks Restaurant on U.S. 1 in Rockledge.
Marine Bank specializes in U.S. Small Business Administration lending and residential lending. "We've had great success in both segments," said Hammad, adding, "We've had several loan requests already in Brevard. We're working with a customer right now on an SBA loan, which is fantastic. We do a lot of SBA lending in our other markets and we're looking to do the same in Brevard. We're going to help small businesses grow in this county through SBA lending."
The SBA posted a record year of lending in 2016, with the 7(a) and 504 loan programs leading the way. Lending to women, veterans, and underserved communities also increased.
The SBA said it approved more than 70,000 loans in the 7(a) and 504 programs in fiscal year 2016. These programs provided nearly $28.9 billion to small businesses and supported nearly 694,000 jobs, according to the SBA.
The SBA's flagship loan program, referred to as 7(a), provides small businesses with comprehensive financial assistance covering the majority of small–business needs, including working capital, and fixed and intangible asset financing.
The SBA says it continues to "streamline" and "improve access" to its loan programs, especially for loans of $350,000 or less. "We work pretty much across the spectrum of SBA lending, including providing small loans to businessowners," said Hammad. "Our success rate, or our approval rate, through the years working with SBA applicants has been very high. We are active in both the 7(a) and 504 programs."
The latter program provides small businesses with long–term fixed–rate financing to acquire fixed assets for expansion or modernization. These types of loans — 504—are available through Certified Development Companies, which are SBA community–based partners.
In fiscal year 2016, the 504 program grew by more than 10 percent to $4.7 billion (the third consecutive year of growth). The program saw a 2 percent growth in loan volume last year. Reauthorization of the 504 Debt Refinancing Program in May was instrumental in the success of the 504 growth last year, according to the SBA.
Locally, Tim Cramer's Florida Business Development Corp. is an active participant in the 504 program. A former banker, Cramer is executive vice president for the Central Florida region for the Florida Business Development Corp.
Hammad said she has been out in the community talking to people about Marine Bank "and handing my business card to everyone." Through the years, she has been recognized and honored by a host of organizations in Brevard for her community involvement.
Her community service in the county covers a wide range of nonprofit organizations, including The Children's Hunger Project, The Salvation Army, The American Cancer Society, Space Coast Early Intervention Center, Brevard Family Partnership, the Brevard Schools Foundation's Take Stock in Children program, The Women's Center, Junior Achievement of the Space Coast, Devereaux, United Way of Brevard, and the Zonta Club of Melbourne, which advocates and works to end violence against women. And the list goes on.
Hammad immigrated to the United States from Palestine with her family. As a teen, she was confronted with a "clash between her parent's heritage and her own aspirations." As a wife and a mother, she endured the same hardships she now champions and uses her personal story to inspire others.
"I love this community. Brevard has so much to offer to so many people. When I moved here from Massachusetts to work in banking, I could feel the warmth of the people. It's a very giving county. And I wanted to be part of that. I have encountered more people in this county than anywhere I have ever worked during my career who are willing to step up and help less fortunate people. That's inspiring to me," said Hammad.
In 2015, Hammad founded "Malak's Medical and Dental Warriors." The nonprofit entity helps youth who are living with conditions, marks, or scars that affect their appearance. The organization engages with doctors and dentists in Brevard to "step up" and be "dream makers" for the children, said Hammad, who was a 2017 Brevard Walk of Fame "Children's Hero of the Year" finalist.
Hammad said she is anxious to open the new office in Suntree and begin serving customers. "The whole concept of a new bank in town is very exciting, especially one that has local decision–making. That helps make banking really enjoyable."