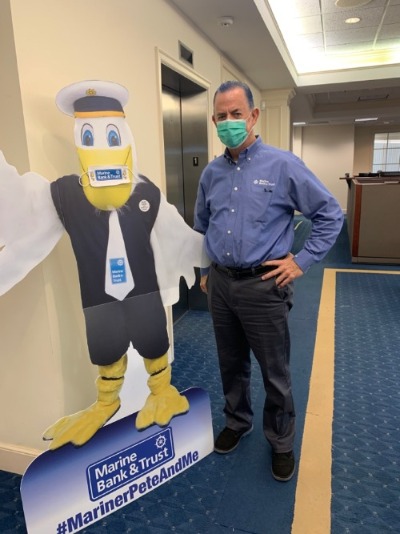 Marine Bank & Trust President and CEO Bill Penney is a man of his word, and, as a result, now has blue hair.
"We set lofty goals in January of last year including increasing the number of customers served, the amount of loans and deposits, and our customer satisfaction rating," said Bill Penney. "When it became clear that 2020 would be a challenging year, I made the pledge to color my hair blue if we met our goals to pay tribute to our team's "true blue" commitment to our customers, our community, and each other."
The bank surpassed all its growth goals for 2020 despite the pandemic.  Throughout the crisis, Marine Bank followed enhanced safety protocols to remain open and serve its customers. As social distancing became the new norm, the bank promoted the ease of online and mobile banking, and the security of the contactless payment methods Google Pay and Apple Pay.
When the SBA launched the first round of its Paycheck Protection Program (PPP), Team Marine worked round the clock to ensure that 790 small businesses received more than $62 million to help keep 6,500 on their payrolls.  
Penney surprised his team by dying his hair blue during a normal Microsoft Teams meeting before visiting each banking center to thank team members personally.
"2020 wasn't easy but it was a great teacher," continued Penney. "We learned that providing exceptional customer service to our customers, supporting the organizations that fill the needs of our community, and respecting our co-workers and contributing to each other's success is a winning formula - even in times of uncertainty."