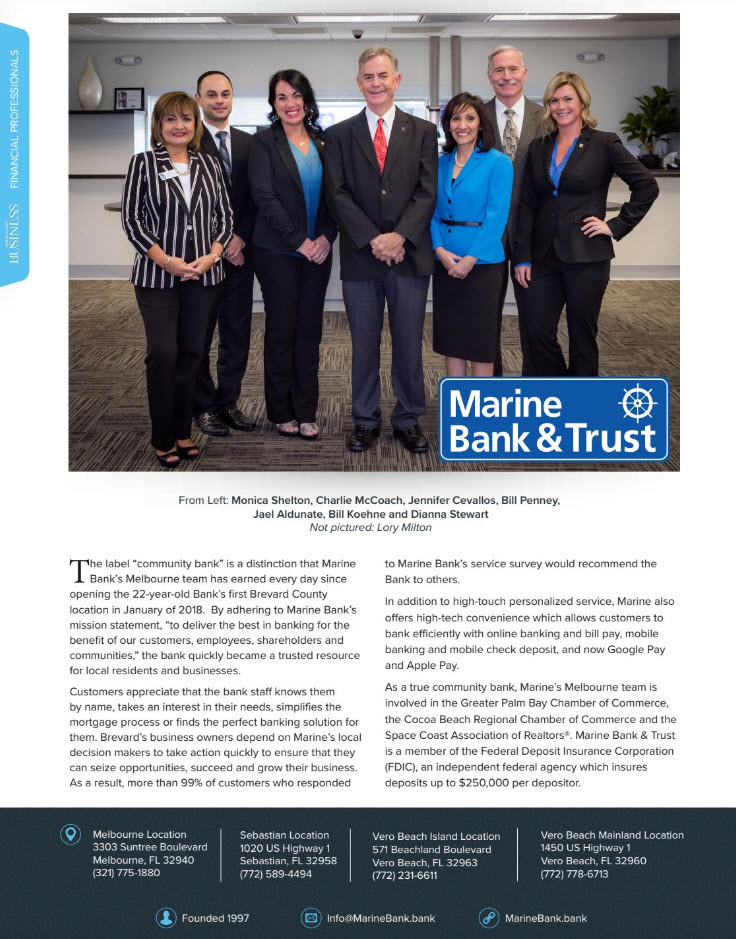 The label "community bank" is a distinction that Marine Bank's Melbourne team has earned every day since opening the 22-year-old Bank's first Brevard County location in January of 2018. By adhering to Marine Bank's mission statement, "to deliver the best in banking for the benefit of our customers, employees, shareholders and communities," the bank quickly became a trusted resource for local residents and businesses.

Customers appreciate that the bank staff knows them by name, takes an interest in their needs, simplifies the mortgage process or finds the perfect banking solution for them. Brevard's business owners depend on Marine's local decision makers to take action quickly to ensure that they can seize opportunities, succeed and grow their business. As a result, more than 99% of customers who responded to Marine Bank's service survey would recommend the Bank to others.
In addition to high-touch personalized service, Marine also offers high-tech convenience which allows customers to bank efficiently with online banking and bill pay, mobile banking and mobile check deposit, and now Google Pay
and Apple Pay.
As a true community bank, Marine's Melbourne team is involved in the Greater Palm Bay Chamber of Commerce, the Cocoa Beach Regional Chamber of Commerce and the Space Coast Association of Realtors®. Marine Bank & Trust is a member of the Federal Deposit Insurance Corporation (FDIC), an independent federal agency which insures deposits up to $250,000 per depositor.