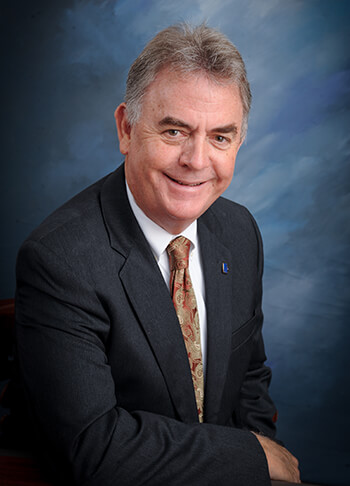 July 23, 2018
Marine Bank & Trust President and CEO Bill Penney was recently named to the Florida Bankers Association (FBA) Board of Directors.  His two-year term began in June at the association's annual meeting. The primary role of the FBA's board is to set policy and oversee the general operation of the Association. 
Penney was nominated by his industry peers and selected based on his service to the FBA and his community involvement.  In 2017, he was presented with the Florida Bankers Chairman's Award in recognition of his continuous support of the association, his leadership on FBA committees, and his commitment to the success of the banking industry. 
Additionally, Penney was elected to a one-year term on the Florida Bankers Executive Committee where he will represent Florida's 63 banks with up to $300 million in assets.
Penney chaired the Florida Bankers Educational Foundation (FBEF) from 2014 to 2017. During that time he served as the FBEF representative on the FBA Board of Directors.  He has also served on the FBA's Government Relations Committee and is currently a board member of the Florida BankPac, a statewide, bi-partisan, non-profit political action committee.
"The FBA Board of Directors plays a critical role in the operation of the association and in representing the association to elected officials, regulators and policy-makers," said FBA President and CEO Alex Sanchez.  "We are honored to have such qualified and committed board members."
"I am exceptionally grateful for this opportunity to play a leadership role in such a vital organization," said Penney. "My past involvement, especially that with the Educational Foundation, has been extremely rewarding and I anticipate this new chapter will be equally fulfilling."
About Florida Bankers Association
The Florida Bankers Association (FBA) is the voice of Florida's banking industry, which is composed of small, regional and large financial institutions that together employ tens of thousands of Floridians, safeguard more than $500 billion in deposits and extend more than $135 billion in loans.  Established in 1888, the FBA is one of Florida's oldest trade associations; its members hold more than 90 percent of the state's deposits.