Dear Fellow Shareholders:
I am pleased to announce record earnings for Marine Bancorp of Florida for the first three quarters of 2019. Please see the highlights and financial summary below.
Consolidated Financial Highlights

(in thousands except per share values)

First Three 

Quarters of 2019

First Three Quarters of 2018

% Change

Net Income

$1,157

$636

82%

Total Assets

$277,991

$268,387

4%

Total Loans

$232,371

$209,130

11%

Total Deposits

$240,206

$244,646

-2%

Equity Capital

$22,264

$19,655

13%

Common Stock Book Value per share

$16.32

$14.40

13%

Earnings per share

$0.85

$0.47

81%
Net income after tax for the first nine months of 2019 was $1,157,000 compared to $636,000 for the same period of 2018. This is an earnings improvement of $521,000 or 82%. The earnings growth is due to the execution of our strategic initiatives to profitably grow the Bank and your investment.
The Company has experienced asset growth year over year with $278 million in total assets as of September 30, 2019, compared to $268 million as of September 30, 2018, an increase of $10 million or 4%.  
Loans outstanding were $232 million as of September 30, 2019, compared to $209 million on September 30, 2018, an increase of $23 million or 11%. 
Total deposits as of September 30, 2019 were $240 million as compared to $245 million on September 30, 2018. Although we have not seen growth in total deposits, we have been successful in changing the deposit mix, making a positive impact on profitability.  
Checking and NOW accounts are a low-cost loan funding source and I'm pleased to report that this deposit category increased to $102 million as of September 30, 2019 vs. $87 million as of September 30, 2018. This is an increase of $15 million or 17%. This substantial increase is a direct result of our Team's focus on targeting high value prospects and winning them over to the benefits of banking local at Marine which include the technological advantages of a big bank plus the personalized service for which we are known.  
The common stock book value was $16.32 per share as of September 30, 2019, an increase from $14.40 per share in September 2018, or 13%. Earnings per share for the first nine months of 2019 were $0.85 as compared to $0.47 for the same period in 2018, an increase of 81%.
Marine Bank has maintained a 5-Star Superior rating from Bauer Financial, the premier bank-rating organization that reports on and analyzes the performance of banks.  The Bank was also named among the top extraordinary banks in the United States for the second year in a row by The Institute for Extraordinary Banking™ and was recognized with the Institute's Banky™ Award for its commitment to strong community banking. This recognition is given to the top community banks across the country for their contributions toward the success of their communities' small businesses and families.
To support our geographic growth in new markets, we will be opening a loan production office at 240 NW Peacock Boulevard, Unit #303 in Port St. Lucie in the next few weeks. Our newest Vice President and Commercial Loan Officer Bill Casey will manage the LPO as well as MB Funding, our new strategic business line. MB Funding will enable Marine Bank to provide alternative financing options for businesses who may not qualify for a conventional bank loan. Bill Casey will leverage a network of preferred lenders to help find a funding source for our loyal customers.
The common stock of Marine Bancorp of Florida, Inc. the holding company for Marine Bank & Trust Company in Vero Beach, Florida has commenced trading on OTC Market exchange under the ticker symbol MBOF. We believe this will increase the visibility of our company and will provide shareholders the opportunity for greater liquidity. 
To assist our shareholders with their trades, Marine Bank has retained the services of D.A. Davidson, a banking industry specialist in providing market making services. D.A. Davidson has assigned Michael Acampora to assist with any questions or inquiries you may have regarding buying, selling or your current ownership in Marine Bank. Mr. Acampora has more than 33 years of experience working with Florida-based Community Banks and their shareholders. He can be reached at (904) 456-6153 or macampora@dadco.com. Additionally, he will be providing stock trading updates and community bank market color to our shareholders as the Bank transitions from being privately-held to a publicly-traded company.
We continue to provide value-added financial related information through the Marine Bank Facebook and LinkedIn pages. Please follow us. Your "likes" and "shares" are important and it will help build brand recognition!
Enclosed is a shareholder referral form which allows you to become an active participant in the value enhancement of your investment! Please remember to refer friends, family members, business associates or someone you think will be a good customer of your bank. Over the last three years, more than 99% of the respondents to our service survey said they would recommend Marine Bank to others, so you can be assured we will exceed their expectations. 
With our positive performance and growth trends, you can feel confident that we will continue to grow the organization and increase the value of your investment.  Thank you for your support of Marine Bank and the entire team.
Sincerely yours,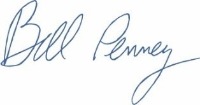 William J. Penney
Chairman and CEO