November 1, 2021         
Dear Marine Shareholders:
I am pleased to announce that Marine Bancorp of Florida has continued to achieve record growth, earnings, and profitability through the third quarter of 2021. As a result of our sustained positive financial performance, Marine Bank is rated 4-Stars, Excellent, by Bauer Financial, the premier bank-rating organization.
First Nine Months of 2021 Financial Summary:
| | | | |
| --- | --- | --- | --- |
| million $ |  Q3 2021 | Q3 2020 | % Change |
| Net Income | 3.967 | 1.945 | 104% |
| Total Assets | 516 | 397 | 30% |
| million $ | | | |
| Total Loans | 320 | 334 | -4% |
| Total Deposits | 479 | 366 | 31% |
| Total Checking & Now Accounts | 233 | 160 | 46% |
|   | | | |
| Marine Bancorp Tangible Book Value Per Common Share | $21.62 | $18.23 | 19% |
| Actual Q3 Earnings Per Share | $2.87 | $1.42 | 102% |
| Return on Shareholders' Equity | 17.91% | 10.58% | 7% |
| thousand $ | | | |
| Non-Performing Assets | 0 | 0 | -- |
Financial Results
Net income for the nine months ending September 30, 2021 was up 104% from the same period last year. The $2,022,000 increase in earnings was due to growth in customer deposit accounts, our loan portfolio, income from the SBA's Paycheck Protection Program (PPP) forgiveness fees and mortgage origination fees.
Assets grew by 30%, resulting in $516 million in total assets as of September 30, 2021 compared to $397 million as of September 30, 2020, an increase of $119 million.
Loans outstanding decreased by 4% from $334 million on September 30, 2020 to $320 million as of September 30, 2021 as a result of the SBA's PPP loan forgiveness. As of January 1, 2021, we had $47 million in PPP loans outstanding. During the year we funded an additional $33 million in Round 2 PPP loans. After successfully obtaining $72 million in loan forgiveness for our customers we had a remaining balance of $8 million as of September 30, 2021. We are currently working through the loan forgiveness process with these remaining customers.
Even with a total $72 million in PPP loan payoffs this year, total loans outstanding only declined a net of $10 million year to date, as our loan team was successful in originating new loans to help our customers buy their dream homes and achieve their business goals.
As of September 30, 2021 total deposits were up 31% over the same period last year – an increase of $113 million. Our non-interest and interest-bearing checking accounts, the key to our customer relationships, grew 46% to $233 million compared to $160 million at the same period last year.
For the nine months ending September 30, 2021, the Bank achieved the following results:
Return on Shareholders' equity (ROE*) was 17.91% as compared to 10.58% for the same period last year
The actual earnings per share increased 102% to $2.87 versus $1.42 for the same period in 2020
The common stock tangible book value of your company has increased by 19% to $21.62 per share compared to $18.23 for the same time last year.
SBA Paycheck Protection Program Loans
The SBA's PPP loans have provided a strong tailwind to our loan growth, earnings and the ability to create and enhance new and existing customer relationships. In total, we originated $94 million in PPP loans of which $86 million have been forgiven by the SBA. Marine Bank is working with customers to achieve loan forgiveness for the remaining $8 million.
As these loans are forgiven, the Bank earns its remaining origination income from the SBA, and we plan to redeploy these funds in good new loans. This has been a good earnings boost in 2020 and 2021 but that boost is running out as the PPP loans pay off.
We are always looking to enhance our lending capacity and professional team. We recently opened a Loan Production Office in St. Lucie West in Port St. Lucie, Florida to better serve the residents and businesses of St. Lucie County and beyond. Also, please welcome Thomas Schinske, Commercial Loan Officer to our St. Lucie County lending team.
Credit Quality
Credit quality continues to be very strong. We have zero non-performing assets.
New Capital Raise
As we have communicated to you, Marine Bancorp recently undertook a capital raise to supplement capital to fund new growth. It has been very well received and we have subscriptions exceeding the original $10 million amount. Given the success of this capital raise, the Board increased the maximum amount to $11.5 million.
The most important aspect of this capital raise is that we have gained dozens of new local investors, customers and fans in our community that will now be ambassadors for Marine Bank. Please join me in welcoming our new shareholders.
Wealth Management
Through our partnership with Warren Capital Management, led by partner and Senior Financial Advisor Sue Tompkins,
Marine Bank's customers have access to financial planning, investment management, trust, and estate services.  If you have not already done so, I encourage you to take this opportunity to benefit from Sue's decades of experience and contact us at (772) 231-6611 to set up an appointment to review your portfolio and investment goals.
Marine Stock Trading
Your Marine Bancorp of Florida stock is listed on the OTC exchange under the ticker symbol of MBOF. If you have any questions or inquiries regarding buying, selling or your current ownership in Marine Bank & Trust, please contact Michael Acampora of D.A. Davidson, a banking industry specialist in providing market making services at (904) 456-6153 or macampora@dadco.com. 
What You Can Do
We know our customers have options. That's why we hope you will take pride in knowing that over the last four years, more than 99% of the respondents to our customer service survey said they would recommend Marine Bank to others. Therefore, we trust you will feel confident referring your friends, family and colleagues to us knowing that our goal is to exceed their expectations with our exceptional service and high-tech convenience.
Be sure to follow Marine Bank's Facebook and LinkedIn pages. Our social media content provides value-added banking and financial related information and news about your Bank. Your "likes" and "shares" are critical in helping us spread the word. 
Sincerely yours,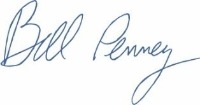 William J. Penney
President, CEO & Chairman
*ROE measures the Bank's income that is earned relative to our shareholder's equity or how effectively we are using your investment to generate increased profits.